Exploring the Great Outdoors: Choosing Between Mountain Biking and Road Cycling
---
Introduction 
Choosing the perfect bike for you is not a walk in the park. It requires you to know the different types of bikes that exist and the situations they are best suited for. While no bike is wrong, a bike might be wrong for you because it does not contain the functionalities you need. 
At Himiway, we specialize in giving you electric bikes that are suited to your everyday needs. Our bikes range from road bikes to mountain bikes, step through and even sep over bikes. We would be walking you through mountain bikes and road bikes in this article. Later on in the post, we would show you how to enjoy the characteristics of both bike types without buying two bikes.
Mountain Bikes: Conquer the Off-Road Adventures 
Even though mountain bikes have been around for a while, they have constantly evolved as the years rolled by. Mountain bikes look like regular bicycles. However, they have incorporated features that make navigating the tough, demanding, rocky terrain easier for them. A typical mountain bike has a light frame, front or full suspension, fate tires, durable wheels and powerful brakes. 
The Fat Tire Mountain Bike Himiway Cobra comes highly recommended as our super mountain bike. It features a strong high-end four bar linkage suspension and coil suspension that limits the impact of any bump you might run into as you make your cycling trip. Its 26"X4.8" CST super fat tires maintains a firm grip on the road and saves you the danger of falling off due to a tire glide on the rough montain terrain. 
As a lover of adventure, Himiway Cobra's 48V 20Ah battery ensures that you have enough charge for each trip. With every full charge, you can cover as much as 60–80 miles, depending on how well you use your battery. 
Road Bikes: Speed and Efficiency on Smooth Pavements
In simple terms, road bikes are designed for roads and paved pathways. They are the most popular bikes you would randomly come across in homes and garages. Unlike mountain bikes, they do not need robust tires before they glide across smooth pavements. On average, their tires are about 23 mm in diameter. However, it is not unusual to find wider tires. Sometimes, these wide tires are fitted to road bikes to improve their comfort, versatility and all-round performance.
Due to the lightweight of road bikes, their batteries last longer and enable them to cover longer distances than other ebike types. Furthermore, propelling them along smooth surfaces is less strenuous.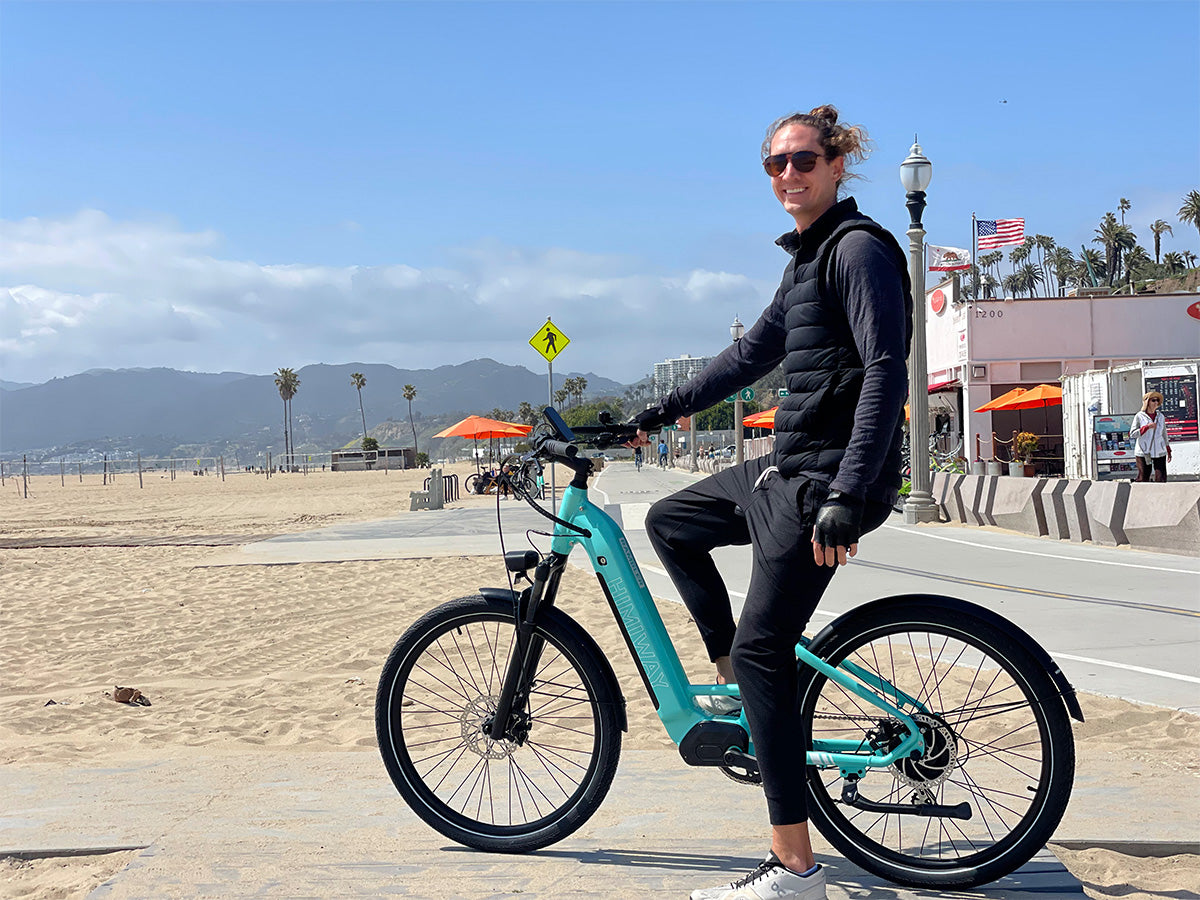 Our Himiway City Commuter Bike Rambler is suited for your everyday cycling needs. Its step-through design eases the stress of mounting a step-over bike and makes it easier for you to hit the road in seconds. The bike is fitted with a Samsung 48V 20Ah battery, ensuring enough charge for your cycling trip. Furthermore, its payload capacity of 330 lb makes it easier for you to ditch your car when going for quick stops to the mall or grocery shop.
Considering Your Riding Style and Preferences 
Factually speaking, there are no wrong bike types. However, some bike types may not be appropriate for you. Before choosing a bike, there are several factors you need to consider. These factors include your cycling style, proposed bike use, the terrain you will be riding on, your height and several other factors. This segment will be walking you through the essentials you need to consider when buying a bike.
Intended Use
Choosing a bike is sometimes difficult, most especially if you are new to cycling. Different bike types are best suited for different types of use. If you intend to exercise with your bike, a road bike simply might be more beneficial than a mountain bike. On the other hand, adventure lovers will find mountain bikes more beneficial than a road bike.
Your Stature and Riding Type
When deciding a bike, you need to consider a bike whose frame can support your. Furthermore, consider your cycling style and its effect on your choice of brakes. A disc brake will do just fine for road bike users who apply the brakes frequently. However, you would need to maintain it at intervals.
Proposed Terrain
Different bike types are best suited for different terrains. Before selecting a bike type, you need to be certain about the terrain you will be cycling on. Getting a bike that is not suited for your terrain could damage the bike and expose you to avoidable accidents.
The Hybrid Solution: Himiway Electric Bikes 
When in doubt about the ideal choice between a mountain bike and a road bike, choose the Himiway hybrid solution. Himiway hybrid bikes merge the features of road bikes with the powerful multi-terrain features of road bikes. 
Premium Fat Tire All terrain E-Bike - Himiway Zebra
The Himiway zebra is a premium all-terrain electric bike equipped with powerful 750W gear hub motor and upgraded inner ring. Its 26-inch Kenda tires gives it a firm grasp of different surface types and eliminates the possibility of slip pin in snow. Himiway Zebra is fitted with powerful Samsung/Lg battery that can cover as much as 80 miles when using the pedal assist function.
Long Range Fat Tire E-Bike - Himiway Cruiser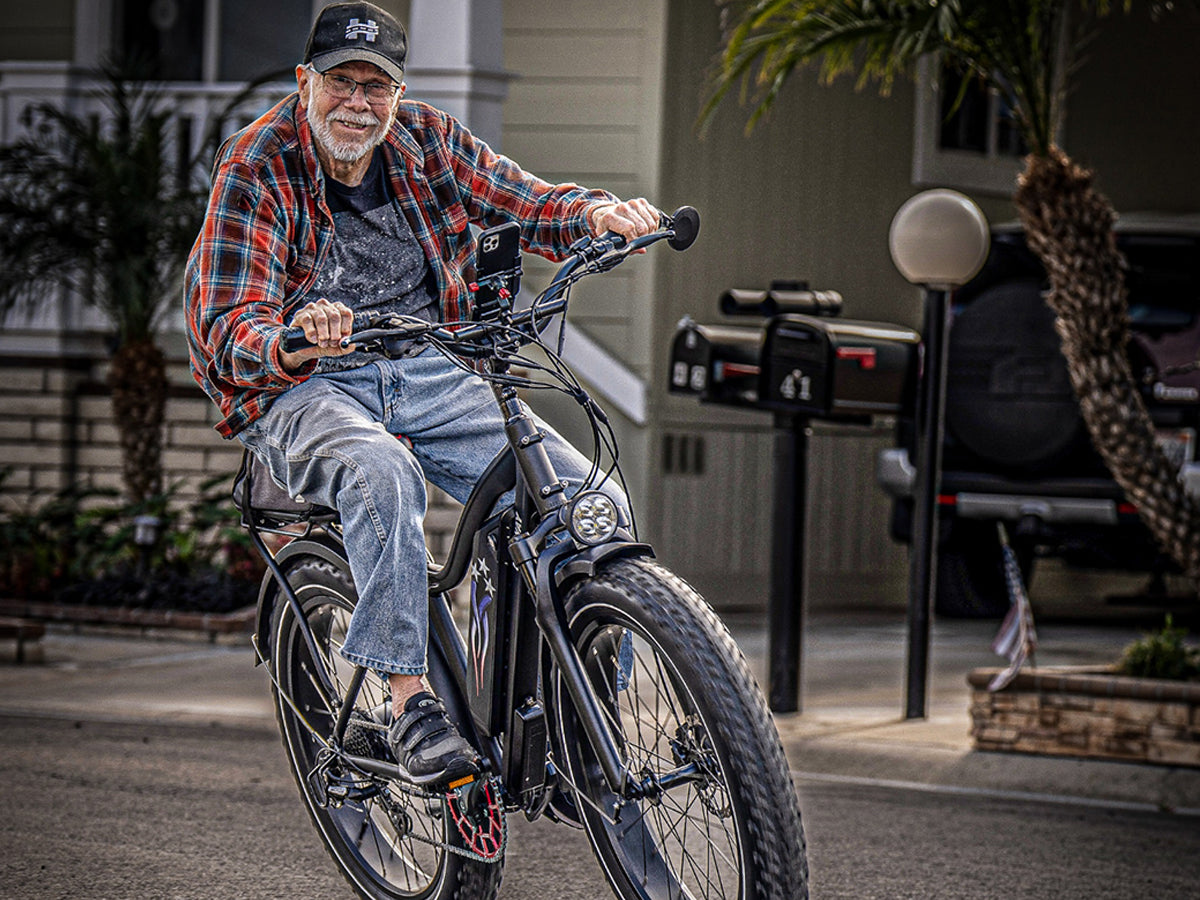 Lovers of step through will find a companion in the fat bike Himiway Cruiser, Himiway cruiser features a step through, solid aluminum 6061 frame. Its low-step design gives cyclists ultimate comfort while retining the excellent performance of the Himiway Cruiser. The 350lbs load capacity gives allowance for riders to strap their load to the back of the bike without getting the bike crushed. 
Furthermore, its 500W Upgraded Brushless Geared Hub Motor Use the latest updated inner ring specialized in high temperature resistance and better heat dissipation. Consequently, reducing the motor magnets' attenuation speed and extending its average life expectancy.
The all terrain Himiway electric bikes feature electric assistance that makes it easier to ride on difficult terrains. The pedal assist gives you an added boost that saves you the stress of applying all the force you need to propel the bike manually. Consequently, this results in a stressless ride, extended range and reduced stress on your joints.
Testimonials and Case Studies
Several people are talking about the benefits of Himiway all Terrain bikes. Come along as we check out what people are saying.
Phil O
The whole process of ordering my new Himiway Zebra was good from start to finish. While FedEx delivery was a day longer than they promised, they did get it here. I wish there was a way to deliver that didn't involve me personally receiving the shipment.
The bike is great. Once I got used to the pedal assist starting as soon as I get one sprocket revolution, I really enjoyed starting off with a boost. Assembly went very well. Adjusting the fenders was not addressed in the instructions but was relatively easy once I figured it out. All in all, I'm pleased with my purchase.
Aaron Clark
Happy Zebra Owner
After watching lots of ebike reviews back to the initial release of the Himiway Cruiser, I finally purchased a Himiway Zebra about 3 weeks ago. I've ridden over 360 miles already and love the solid feel and power of the bike. The quality motor, battery, frame, and components Himiway selected for this are a great value for the price. I've had several people stop me while I'm riding to ask questions about it. They're always impressed when I tell them how much it costs. This has helped me get outside and enjoy local sites that I haven't visited for years. The summer heat (in Georgia) has been more tolerable because of the wind blowing by at 20 mph. Overall, I'm very happy with my Zebra purchase and would highly recommend it to anyone considering an ebike purchase.
Mike Obrien
Much better than expected
This bike is very well-built and performs great and was shipped really fast. I would definitely buy their products again.
James Jamieson
I've had my zebra for a week, loving it. Well-built, lots of fun. Going to purchase another one for my wife, figuring out which model would be best for her.
Fun Comparison: Mountain Biking vs. Road Biking 
Your road bike is always ready to go with you on a fun trip, quick ride or fun activity. Unfortunately, the moment the terrain gets tough, it's a no! no! Without much ado, let's explore the differences between a mountain bike and a road bike.
Terrain
Mountain bikes are suited for rocks, steep passes and very difficult road terrains. On the other hand, road bikes are only suited for paved, less demanding road surfaces.
Uses
Mountain bikes can be used for sports, recreation and rigorous adventure. However, road bikes are only useful for exercises and recreational purposes.
Build And Design Features
Mountain bikes are fitted with wide, knobby tires that give them good traction and enable them to absorb shock efficiently. Road bikes have simple aluminum frame with high pressure rolling tires that equip them to reduce resistance on the road.
Speed
In terms of speed, road bikes beat mountain bikes hands down. This is because road bikes are lightweight. Hence, enabling them to move faster without the need to overcome added resistance caused by their weight. Moreover, road bikes are designed for speed and perform better on ashphalt and pavements. On the other hand, mountain bikes, though fast, can't outperform road bikes when put to a speed test.
Wheels And Tires
Mountain bike wheels have a larger diameter and are stronger than road bikes. The wider diameter of mountain bikes enable them to have a firmer surface contact area with the roads when cycling on tough terrains.
Making Your Decision: Considerations and Final Thoughts
With the Himiway all terrain electric bikes, you do not have to choose between a road bike and a mountain bike. Simply check out the specifications, set a budget and make a purchase on the Himiway website.
---
---