Are E-bikes Worth It for Hunting?
---
The rapid adoption of electric bikes is exploding in the recreational riding market, and hunters are not left out. The hunting ebikes are already catching many hunters' attention and introducing an improved way to participate in the sport. With its ability to travel long paths and handle difficult terrains, the interest will inevitably grow.
Regardless of the type of hunting you enjoy, the ebikes are the new game changers. It packs a pool of benefits for hunters, including a stealthier mode of transportation and more accessibility to hard-to-reach spots. Some features include sturdy frames, lasting lithium-ion batteries, quality components, powerful motors, and rugged fat tires.
What is an electric hunting bike?
There might be several similarities between the regular mountain bikes or bicycles and the electric hunting bike. However, the included battery, motor, and controller integrated into the design of the ebikes enhances the physical power and allows riders to withstand the rough terrains of the wilderness. 
Although the electric mountain and hunting ebikes are somewhat similar in offering greater speed, less exertion, and precision while performing off-road trips, there are differences. The hunting ebikes have sturdier frames to carry more weight. The physical camouflaged appearance is a giveaway to spot differences between the ebikes for hunting and other electric bicycles for urban use. It's stealthier, extra durable, and can travel 60 miles on a single charge.
The hunting ebikes make it easy to transport your hunting gear and game to your home without stress. You can choose to pair your hunting ebike with accessories like travel bags, racks, and cargo trailers to carry your hunting kits. The bikes are also lightweight, allowing you to get in and out of your trailer or truck easily.
There's also a heavy-duty suspension system and fat tires in the electric hunting bike to allow it to hold more stability while carrying greater weight and going over varied terrain. 
Benefits Of Fat Tire Electric Hunting Bike
Fat-tire hunting ebikes have several benefits to help riders travel comfortably through terrains. Whether the aim is to scout, follow a trail, or check on traps, the fat tire electric hunting bikes outperform the regular standard mountain ebikes, offering more traction and making the trip better.
Improves comfort
The hunting ebike with premium components, fat tires, and grippy treads boosts comfortability and rollover ability. Even if you have physical limitations like joint pain, you can adjust the tire pressure to provide maximum comfort.
The extra-wide tires make it easy to drift and break under tough conditions. However, the exceptional feature of the hunting ebike is the electric motors that provide powered assistance and take away the arduous effort of handling a heavy bike. Instead of enduring the wearies of walking, you only need to do minimum work for a comfortable ride and get to hard-to-reach areas. 
Increased stability
Better than the standard tires, the fat tires on the electric hunting bikes have more rubber and contain more air. This equips the fat tire to maintain its function with lower air pressure. During backcountry rides, the thickness of the tire cushions the impact on bumps or dips. The increased stability and maneuverability of the electric hunting bike make it more comfortable for rides without the risk of getting jarred or losing control in the uneven wilderness terrain. Even less experienced cyclists can have balance and control through rough terrains while riding the fat tire ebikes. Hunters can also improve stability by using a double-wheel cart when towing a trailer full of games. 
Minimum effort
Traditional cycling imposes some physical strain that can get the rider worn out in a short time. The ebikes require less effort and remove the need to exert more energy. The modes of operating the hunting ebike include throttle-powered, unassisted, and pedal-assisted, where the rider pedals while the motor assists. Therefore, riding the ebike is still a proper exercise to stay fit and healthy. The hunting ebike allows hunters to conserve energy and reach more distances. Instead of walking to your bait traps or hunting stand, you can save time with minimum effort. 
What To Look For In An Electric Hunting Bike
There are several components and concepts together to create the electric bike. But since all models are unequal, you need a model befitting the right design and specification for hunting conditions. Knowing what to look for in an electric hunting bike can help your decisions while purchasing your first or next rig.
Motor 
The two main motor options for hunting ebikes are hub and mid-drive motors. As regards the electric hunting bikes, the mid-motors have more advantages over hub motors. The Himiway Cobra Pro's mid-motor gear ratio allows the chain and gear set as the pedals for you to power the rear wheel. This way, the rider can accelerate from a stop or climb up a bridge with low gear without overheating. It also has better torque to pull loads and climb hills than the hub motors. 
Range
Before setting out on a hunt, the range of the bike is an important consideration. It's essential to have enough juice to get you to your destination and back. Although your battery rating determines its range, the wattage of the motor, terrain, temperature, and weight of the rider and gear also impact the length of miles, you can go. The battery size may vary based on the model, but the Himiway Cobra electric mountain bike can cover up to 60-80 miles on a single charge without pedaling.
Suspension 
Your bike must be capable of hauling all your equipment and game back home after hunting. Consider a full suspension with shocks in the front and a linkage system underneath the seat to offer extra control over the bike, like theHimiway Cobra Pro softail electric bike. It allows the rider to apply quick stops even in mud, rain, or other unstable terrain conditions. 
Speed
Speed is a determining factor when hunting; you must consider this while choosing the ebike. Enough speed gets you to the hunting spots, but you also need proper control to ensure safety. All Himiway fat tire ebikes boost up to 20 MPH, which is pretty fast and safe on rugged terrains.
Noise
Staying extremely silent while hunting is necessary to help the hunter creep on your potential game and avoid scaring them off. The electric bike's stealthiness and quietness are the main determinants of an ebike for hunting. It should produce as less noise as possible.
Durability
Knowing that most of your hunting paths will be off-road, it's better to purchase a durable ebike to fit tough conditions. The electric hunting ebike has more than a few updated components of other bikes. It also features camo wrappers and heavy-duty parts for hunting excursions with minimum maintenance.
Best Electric Hunting Bikes (Himiway Cobra)
Most hunting locations are in remote areas with rough terrains that can prove challenging to ride through and maneuver. Only a strong, stealthy, rugged ebike won't slow you down while handling difficult terrains.
With the best electric mountain bike, you can travel deeper into the wilderness and find your game. As you probably already know, there are several electric bikes on today's market. Many of them are great off-road ebikes, but the Himmiway Cobra stands out from the rest. It holds all the necessary features to access remote areas and go down extensive and impossible trails. From the long range of 60-80 miles per charge to the powerful 750-watt hub-drive motors and four-bar linkage suspension, the ebike model is already gaining the attention of the hunting community. It also has a hydraulic disc brake, a 7-speed Shimano Derailleur, and a 48V 20Ah Samsung/LG battery. All these are carried on 26 x 4.8 super fat tires making the ebike perfect for steep hills, rugged terrains, and off-road performance.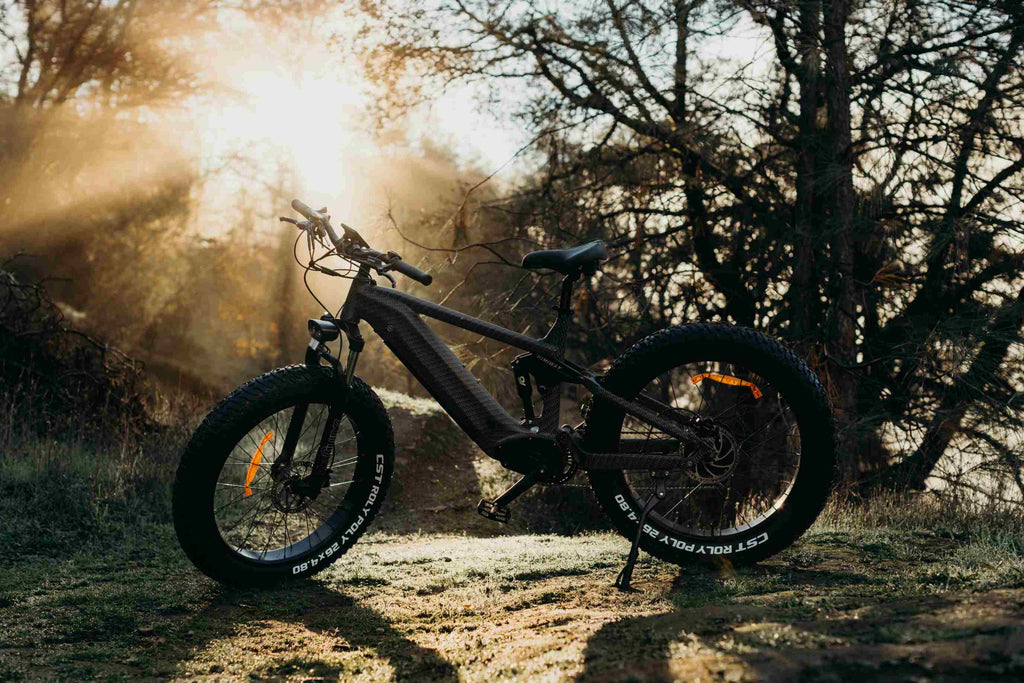 Conclusion
Every modern-day hunter needs an electric hunting bike. It has more to offer on off-roads than the traditional mountain bikes. The decisions you make while buying the ebikes for hunting can massively influence your biking experience. Your aim should be towards ebikes that are stealthier and faster to capture your game with minimum effort. Himiway has a range of products for ebike to suit several purposes, including making your excursions less tiring and fun.
---
---